Welcome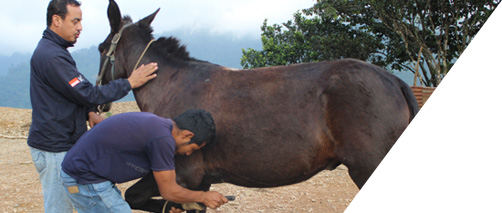 We are a private foundation that improves the physical and psychological welfare of equines in Guatemala. Since 2006, ESAP has been working in the most remote rural communities of Guatemala in order to reach the animals in most need.
News
Los equinos y el ganado representan medios de vida esenciales para las familias vulnerables residentes en el volcán de fuego. Estas familias en su mayoría dependen de la agricultura de...
Evaluación de Bienestar Equino Año 1 Caminos rocosos, estrechos y con temperaturas sobre los 38 grados no fueron un impedimento para sacar adelante nuestra labor. ESAP comenzó a laborar en Zacapa y...
¿Te interesa aprender a realizar recorte y balanceo de cascos?   Entonces te invitamos a nuestro taller a realizarse este 5 de mayo en Agro Show Los Laureles, Chiquimula.  
AGROSHOW LOS LAURELES CHIQUIMULA 2017
  CAPACITY BUILDING AND AWARENESS RAISING Through our Equine Welfare Program, we train equine owners (men, women and children) in rural communities on how to prevent the suffering, abuse and mistreatment ...
Jornada clínica El día 6 de marzo la Dra. Calderón de MAGA, realizó una jornada clínica a bajo costo en la comunidad Tres Pinos en Zacapa.

Se realizó la segunda capacitación sobre los Estándares de Bienestar para Équidos de trabajo de la Organización Mundial de la Sanidad Animal -OIE-. Dicho curso fue impartido a personal del Ministerio…